More about pod
[Work in Progress]
The OUCC Lemming award - pod's Lemming Trip.

The OUCC Tankard award - the club's highest accolade: "2004: pod -Technical Caver

"

The pod symposium was a remarkable event organised by pod's family and closest friends. It brought together more than 100 people who knew pod through work and his interests in caving, stage management and maths.

Scanned extracts from OUCC logbooks with stories by pod or about pod.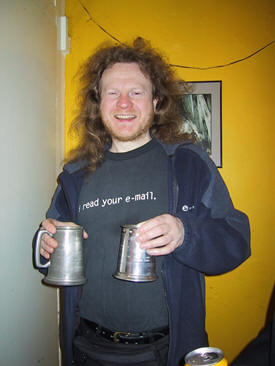 pod wins the Tankard in 2004,
in recognition of his contributions to OUCC