Overview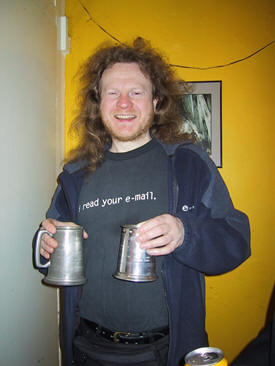 Pod wins the Tankard in 2004, in recognition of his contributions to OUCC
The pod fund provides small grants to OUCC student cavers to help with costs such as buying personal caving gear and going on caving expeditions. The fund was donated by pod who was a member of OUCC for more than 10 years and who died of cancer in 2012.
Pod worked in Computer Services at Oxford University, and joined OUCC in 2002. He was a natural caver with a great sense of humour who soon picked up caving skills. He enjoyed all aspects of OUCC from fun sporting caving trips with friends in the club to challenging exploration trips into the unknown, as well as the social fun and madness of caving weekends and mid-week pub meets. Like many of us he sometimes had fears to overcome, and he pushed and challenged himself discovering what he was capable of, and also found great pleasure from helping others to enjoy caving.
Pod contributed massively to OUCC, putting lots of work into making the club run smoothly and helping ensure students had good and fun caving weekends. He was on the committee for many years with many roles including chairman, gear officer, IT expert, and editor of the club newsletter, DTT. For many years he made caving weekends work by organising kit and food, driving minibuses, and helping lead new student cavers.
During his illness, pod became an inspiration to his friends in OUCC. He faced the greatest challenge of all with remarkable courage and cheerfulness. He is much missed, underground and in the pub.