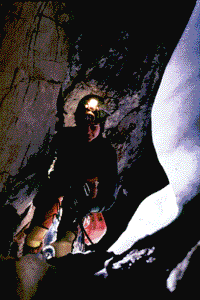 Joanne Whistler at the head of the second pitch in F88 (Paul Mann)
The cave is located just below the Verdelluenga-Cabrones ridge, to the west of the Verdelluenga Thrust ("The Green Tongue"), in a small depression in an area of karst, near the base of a cliff. It was originally explored in 1993, when it was numbered F56, to the base of the first pitch, where it was blocked with snow. It was explored further in 1997.

The entrance pitch of 30m drops down a roomy shaft, into a 4m by 6m chamber. The second pitch continues immediately, dropping down the side of a snow pile for 25m. [It is possible to descend to the bottom of the snow pile, where it appears to be blocked; any continuation here is likely to link into the cave further down.] The way on is to swing slightly left, doubling back under the entrance shaft, to a stance from where the next pitch is rigged, a 20m descent down another snow slope

.At the base of the pitch, a short, lined traverse along a rift leads to the head of another shaft. [A difficult pendule across the top of the shaft reaches a short scramble up to a small hole, followed by a 14m pitch, with no way on at the bottom.]

Back at the end of the traverse, the pitch can be descended for 42m, past a ledge, to land on a snowplug. [Continuing in the same direction enters a choked rift.] The main way on is doubling back under the descent route, and either descending the snow plug and walking along the floor, or an awkward 10m traverse along the snow before descending. The cave continues, descending at an angle of about 45 degrees, with a few short vertical sections, for 80m. The passage becomes more and more full with snow as the descent continues. A few holes are visible through the snow, but none are inviting. Eventually, the snow runs out at a pebble floor, with no way on visible.